Waiting lists give you flexibility when setting up a session. When a session reaches capacity, you may wish to allow clients to sign up for a waiting list. In the event that a space opens up then they will be able to register for that session.
Note
Being on the waitlist is not part of the registration process.
Once space opens, clients will need to complete the reservation process.
If a session is full and has a waiting list, spaces that open up are held for the waiting list. They are not available for the public to claim without first signing up on the waiting list.
Opening Up Session Spaces
There are two ways session spaces can open up:
Increasing session capacity by an administrator.
By canceling or moving reservations.
Notification of Availability
The waiting list can function in an automated way, notifying people in the order they signed up or it can be managed manually.


Set Up Waiting Lists For Individual Sessions
Go to the Session Editing Wizard.
Click on Scheduling.
Expand Sessions.
Select Sessions.
Click Edit.
Select Additional Information.
Click Session Waiting List.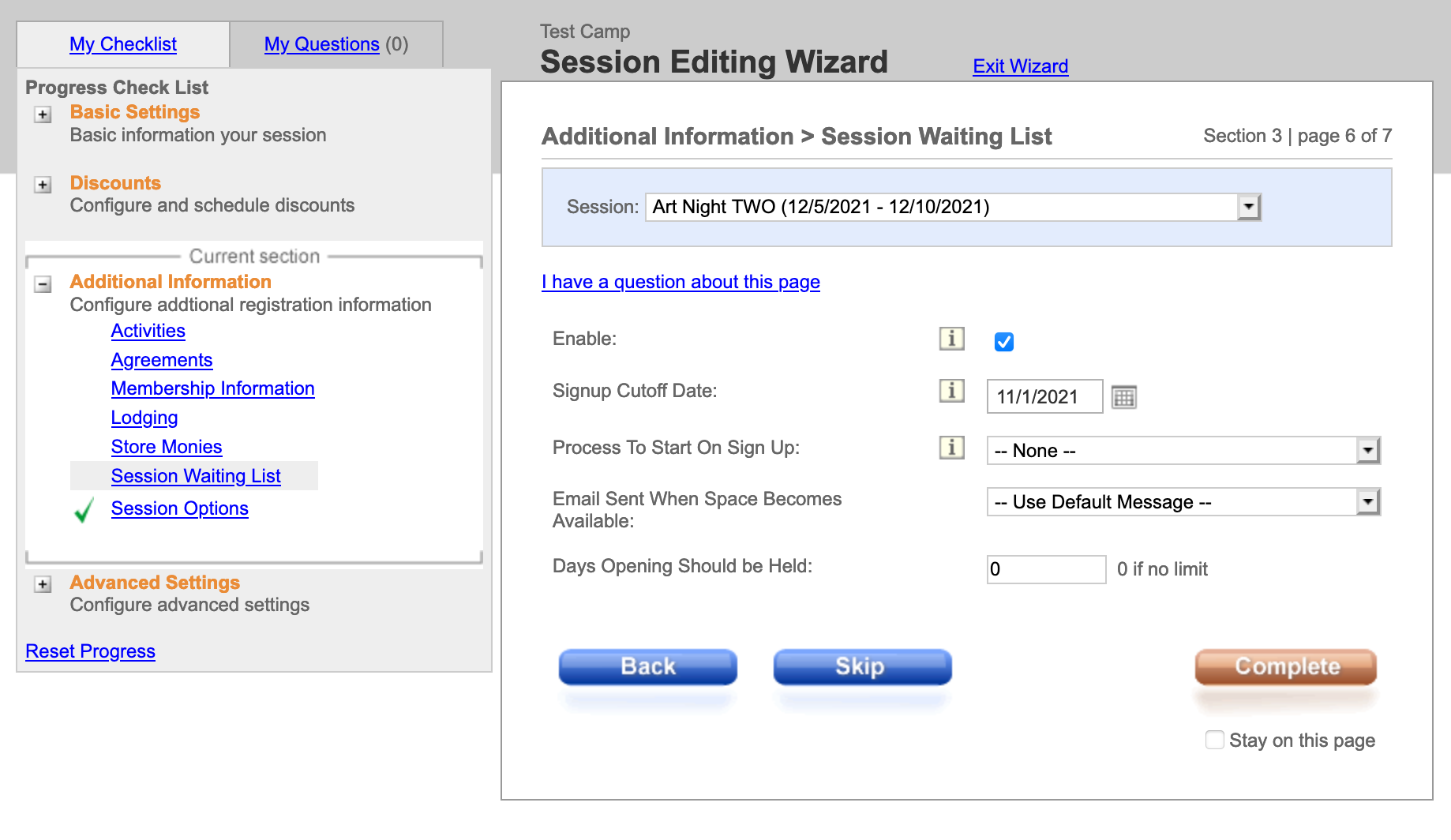 Edit Settings Details

Enable: make sure this box is checked if you want to offer a waiting list option.
Signup Cutoff Date: This is the last day a person can sign up for the waiting list. After this date, the waiting list will no longer show up as an option to sign up for.
Process To Start On Sign Up: If you would like to attach a process you have created in UltraCamp, you can do so here (this is uncommon).
Email Send When Space Becomes Available (Notifications):

Manual Method: If you would like to manually manage the waitlist, set this to 'Do Not Email'. With this setting, no one on the waitlist will be notified when space opens up and the administrator may register anyone they would like from the admin side in UltraCamp for the open space.
Automated Method: If you would like to automate the waitlist process, we highly recommend leaving the email message on 'Use Default Message'. UltraCamp will send an automated email that will include the person, session and time limit a person has to register for the session once space has opened up for them.

Below is a sample of the email that a person will receive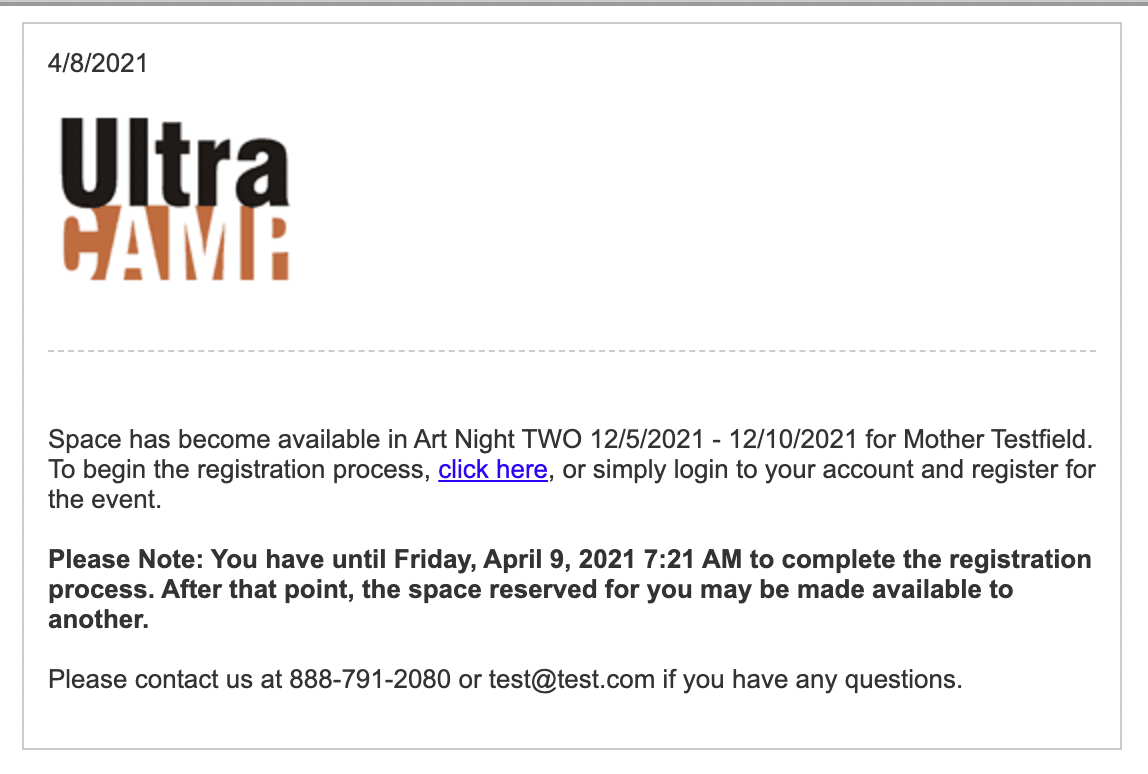 Days Opening Should be Held: When space opens up in a session and a person is notified via email, a hold is placed for this person. This setting dictates how long that hold lasts until the person is removed from the waiting list and the space is then offered to the next person on the waiting list. The default is set to 0 (for no limit). This will hold the space in the session for a person on the waiting list until the session begin date or they are removed from the waiting list manually.


Increase Session Capacity
In the Session Editing Wizard, go to Basic Settings.
Click on Capacity.
Increase the Capacity as needed.
Perform Waiting list check: Checking this box will send the waiting list emails right away when the capacity is increased (instead of waiting until the next morning).
Note
This checkbox is an action, not a setting. It needs to be checked each time the capacity is increased if you wish to send the emails immediately. This checkbox does not enable the waiting list. If it is checked and the waiting list has not been enabled in the waiting list settings, no action will occur.
Click Complete to save changes.
View the Waiting List
Go to the Reports Menu.
Click on Reservations.
Click on Session Waiting List.
Check the box next to a session.
Note
Only sessions that have people signed up on the waiting list will show up here.
Click Search.
Note
Individuals will have an overall priority number on the waiting list as well as a gender priority (for sessions that limit space base on gender).
Edit Priority Number or Remove From List
When viewing the waiting list, click 'edit' next to a person to change their priority on the list.
Remove a person from the waiting list by clicking 'delete'.
FAQ
How do I let people in to a session from the waiting list?
Space can open up for a session when there is a cancellation.
UltraCamp will check for open space in a session's capacity and will automatically send an email each morning to eligible people on the waiting list (if these emails are enabled on your settings).
Increase the capacity on the session.
How does a person complete registration once they receive email that space is available?
A person can either click the link in the email directly to register for the session or they can log into their UltraCamp account and register for the session.