Customize This Page
The language on each page on the Public site can be customized to fit your company's terminology.
To customize page language:
On the pubic site, navigate to the page you want to customize
Click on side menu
Select Customize This Page
You'll be taken to the Admin side, where you can view the available options
Enter a new label in the custom value field and click Save
You can also select different pages on the Admin side by clicking on the dropdown menu next to Page

Tip
If you would like to customize the main navigation menus, you'll need to submit a support ticket.
Customize Public Side Theme
The theme controls the overall visual look of the public site. By adding your logo and custom colors,
To customization the theme:
Login into UltraCamp
Select Public View
Click on side menu
Select Customize Theme
After uploading logo, banners and customizing colors, click Save
Logo
Your logo can appear in different parts of UltraCamp.
The public site, where your clients register, will display your logo if you do not have a custom banner.
Email correspondence and confirmations also include your logo as part of the message.
Acceptable file formats include: GIF, JPG (JPEG), PNG
Tip
For logos that have transparent areas, save as a PNG file.
PNG vs JPG
PNG files can support transparency. JPG (JPEG) files do not support transparency and will have a background.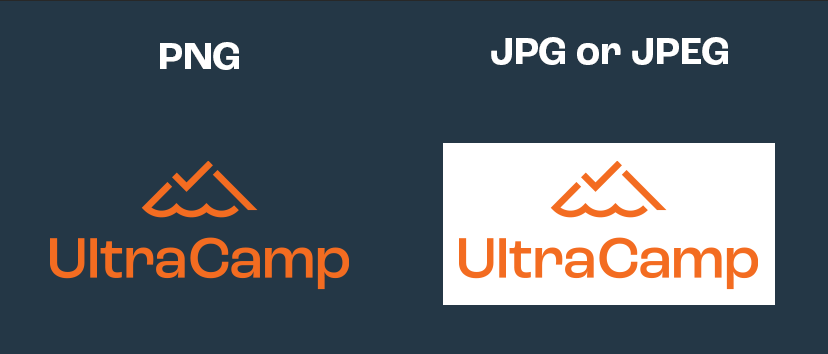 Banner Sizes
Desktop Banner size: 2000px x 250px

If no banner is uploaded, UltraCamp will use your logo



Mobile Banner size: 750px x 100px

If no mobile banner is uploaded, the Desktop Banner or Logo be used. These will scale to display on a mobile device.
Note
If the banner images are not changing after uploading and saving, make sure to clear your browser cache and cookies.
Custom Colors
You can keep the default colors or select ones that better match your brand.
Click on the color bars
Select the new color from the color picker*
Choose from preselected colors or click on additional options to enter the HEX Color # or RGB values
Test for Accessibility: When customizing colors make sure to consider accessibility for color blindness. Chrome has several extensions to that you can use to preview your page: Colorblindly and RGBlind.

*Color pickers may look different depending on your platform (PC/Mac) and/or web browser.